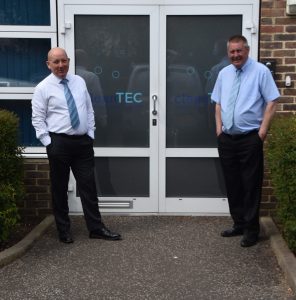 CleanTEC Services Ltd has become one of the first cleaning companies in the country to become an Employee-Owned Business.  As of Thursday 4th March 2021, the business' employees now hold the majority of the ownership within the company.
CleanTEC, founded by Peter Rochford and Chris Rogers in 2000, has developed a strong reputation and proven expertise in delivering an efficient and effective service within the cleaning services industry, whilst ensuring the satisfaction and safety of their employees.
CleanTEC's employees have always been instrumental in the business's success, and have always been recognised in the day to day running of the business, the decision to become an employee-owned business formalises this value. The company has grown organically through the years and now operates across the UK and has over 1,250 employees – all of whom are now beneficial owners of the business.
Peter Rochford, Director of CleanTEC, said: "We have just celebrated our 20th year in business, and it has been a great time to reflect on the efforts of all our employees. We wanted to sustain the future of the business and safeguard the culture of the company. This change means that our workers will be recognised as more than just employees but partners in something that they have helped create. Having the financial and legal expertise from Andrew Williamson from WMT, David Lyons from Virgin Money, Emma Cameron from VWV and Ewan Hall from Baxendale all of whom we have worked with for numerous years, their advice and support has been instrumental in becoming an employee-owned business."
The transition to employee ownership was project-managed by St Albans-based Chartered Accountants, WMT. The corporate finance lead advisory team at WMT explored a range of strategic options from a traditional management buy-out to an open market trade sale, before concluding that an Employee Ownership Trust (EOT), alongside an Employee Benefit Trust (EBT) would be the best option for shareholders and employees alike. Andrew Williamson, Corporate Finance Partner at WMT, added: "We are pleased to have been able to support the team at CleanTEC in this way, enabling them to implement a succession strategy that is also a plan for the ongoing success of CSL for years to come."
Emma Cameron, a Partner in VWV's Corporate Law team, commented: "Having acted for CleanTEC for many years and having assisted other clients with establishing employee ownership trusts, we were delighted to be able to use this expertise to assist the CleanTEC directors in their aim of ensuring the succession of the company for the benefit of its employees."
Sam Grubb, CleanTEC Employee, commented: "This is a really exciting opportunity for myself and my colleagues. Knowing that the efforts of our work will be recognised in this way, it makes you feel like you are a part of something bigger. I have really enjoyed the 4 years I have been with the company and it feels like a huge incentive to stay for even longer!"
When asked what this meant for clients, Peter Rochford, said: "EOB Employees are proven to be more engaged, more productive, and there is a positive impact on staff's motivation and wellbeing. This is because they have a vested interest in the company's future. I am confident that our clients will feel the impact of this exciting change".
Deb Oxley OBE, Chief Executive of the EOA, said: "We congratulate CleanTEC Services and its employees on their move to employee ownership securing the values and independence of the business for the longer term".